LeadMaster Übersicht
Was ist LeadMaster?
Integriere deine Lead-Generierung, indem du Website-Besucher, Startseitenanmeldungen, E-Mail-Leads usw. in Echtzeit direkt in die LeadMaster-Leadmanagement-Software einfließen lässt — automatisch!
Verfolge Leads während des gesamten Verkaufszyklus von der Lead-Generierung bis zum Abschluss des Verkaufs und darüber hinaus — damit du weißt, was funktioniert, wer verkauft und wer kauft — mit einem Mausklick.
Lasse Vertrieb und Marketing zusammenarbeiten. Lasse deinen Außendienst, Innendienst, Wiederverkäufer, Partner und Callcenter-Agenten, Leads verfolgen und Kundendaten aktualisieren, und du wirst messbare Ergebnisse sehen.
Kennzeichne die LeadMaster-Online-Leadverfolgung, die Vertriebsmanagement-Software und das E-Mail-Marketing-System mit Private Label und biete alles als Mehrwert für dein erweitertes Business-Team, inklusive Channel-Partner.
LeadMasters Lead-Management-/SFA-CRM-/Lead-Verfolgungs-/Lead-Pflege-/E-Mail-Marketing-Software ist eine einfache und umfassende Möglichkeit, Kunden, Interessenten und Prognosen zu verwalten. Und man lernt es schnell. In nur einer Stunde spricht dein Team fließend die Sprache von LeadMaster!
Deine Vertriebs- und Marketingmitarbeiter werden so organisiert und produktiv wie nie zuvor, denn sie werden Informationen wie nie zuvor austauschen.
Leads werden erfasst und verfolgt. Kunden werden den Unterschied bemerken. Genau wie du, denn Vertrieb und Gewinn wird sich entsprechend bemerkbar machen.
Sales-Lead-Management- und Lead-Verfolgungssoftware und Menschen, die für dich da sind.
Dein Unternehmen braucht ein komplettes und dennoch einfach zu bedienendes Online-Lead-Verfolgungssystem, eines, das deinen Vertriebsmitarbeitern hilft, mehr Verkäufe an mehr Menschen in kürzerer Zeit zu tätigen.
LeadMaster hilft Vertriebsmitarbeitern, mehr in kürzerer Zeit zu erledigen — mit LeadMaster "Click Action"-Buttons. Das sind benutzerdefinierbare Schaltflächen, die mehrere Aktionen mit einem einzigen Mausklick ausführen. Nehmen wir zum Beispiel an, dass nach einem einleitenden Telefonat routinemäßig ein Dankesschreiben mit einem Whitepaper versendet und dann ein Folgeanruf geplant werden soll, um das Paper in der nächsten Woche zu besprechen. Diese Aktivitäten können alle mit einem einzigen Mausklick programmiert werden.
Viele Softwarelösungen für Sales-Lead-Management haben den "Menschen" nicht mehr auf dem Schirm, da sie nichts anderes als Cloud-Computing-Software anbieten. "Hier ist dein Passwort, los geht's." Und das ist nicht nur kalt, es ist ineffektiv. Sales-Lead-Management-Software/Lead-Verfolgungssystem ohne menschliche Expertise ist nur Computer-Code.
Maßgeschneidert für dich und deine Branche
LeadMaster bietet drei Lösungen in einem — E-Mail-Marketing, Lead-Management-Software und SFA CRM mit Funktionen wie Kampagnenmanagement, Outlook-Integration und mobilem Zugriff, Workflow-Automatisierung — alles integriert, einfach zu bedienen und erschwinglich.
LeadMaster lässt sich für dich und deine Branche individuell anpassen. Die Feldnamen, Formulare, Dashboard-Diagramme und viele andere Funktionen können auf deine individuelle Art und Weise angepasst werden, was zu einer Zeitersparnis für dich und dein Team führt.
Mit LeadMaster erhältst du eine funktionsreiche Vertriebsmanagement-Software, die einfach zu bedienen ist und von LeadMaster-Experten persönlich betreut wird. LeadMaster Partner begleiten dich von Anfang bis Ende.
Oder möchtest du es lieber selbst machen? Kein Problem, stöbere in der Support-Bibliothek mit Videos, Referenzhandbüchern und Tutorials.
Ob du neu im Bereich Online-Leadverfolgung/SFA CRM/Vertriebsmanagement-Software/Lead-Management-Software bist oder von einem anderen System wechselst — die Personalisierung mit LeadMaster wird dir gefallen. Die Software wird dir zum Erfolg zu verhelfen.
Sales Force Automation und Sales CRM
Mit LeadMasters Online-SFA-CRM-Sales-Lead-Managementsystem hast du keine Kapitalkosten im Voraus. Es gibt keine großen Investitionen in Infrastruktur, Server, Netzwerke und IT-Personal. Hol dir die gleichen Funktionen wie die beliebteste Software-Version der Mitbewerber zum halben Preis.
LeadMaster bietet nicht nur Einsparungen, sondern auch Flexibilität, da du dich nicht mehr um Installation, Upgrades, Wartung und Softwarelizenzierung kümmern müssen. Das macht LeadMaster. Du wirst nie auf eine lästige langfristige Vereinbarung festgenagelt sein, sodass du die Anzahl deiner Nutzer Monat für Monat anpassen kannst.
LeadMaster Übersicht
Kosten
Preisoptionen
Preis-Leistungs-Verhältnis
---
LeadMaster Funktionen
Märkte
Vereinigte Staaten von Amerika, Kanada, Vereinigtes Königreich, Australien, China, Indien
Unterstützte Sprachen
Chinesisch (vereinfacht), Englisch, Spanisch
Media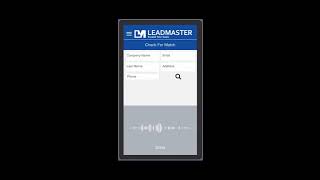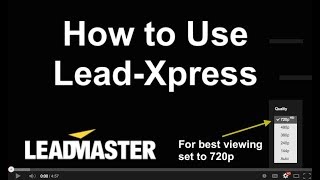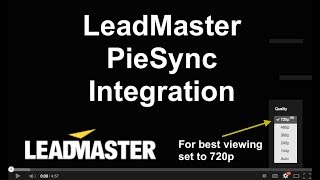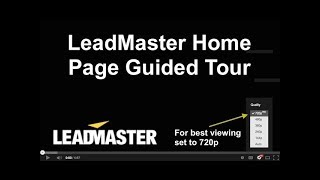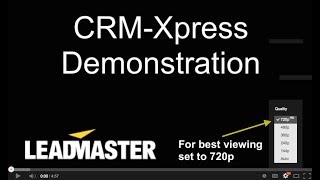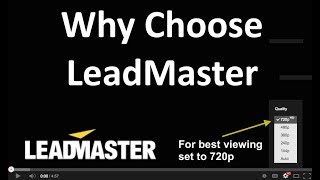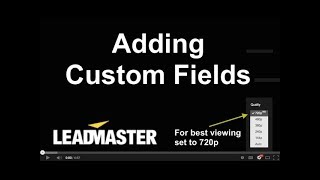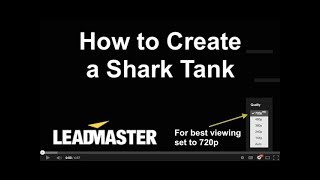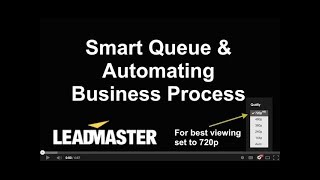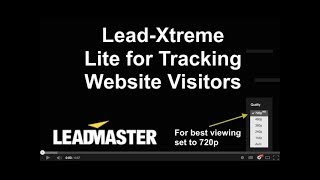 LeadMaster Bewertungen
LeadMaster Bewertungen
Preis-Leistungs-Verhältnis
4,1
81%
haben diese Anwendung empfohlen
Having struggled through two inadequate database and communications systems for my college, I was looking for a low-cost product that would give me a high degree of autonomy within the system and infuse our office with efficiency in managing our sales process. Running a college admissions office is similar to selling a widget, but there are enough differences that I needed to be able to customize this system in order for it to function in an educational environment. We hit a home run with Leadmaster.
Having worked with more than five different databases in my career, I have found that Leadmaster matches or exceeds the efficiency of my previous experiences, while meeting all the needs and demands of communicating with my prospective students in this day and age. From texting to email to phone calls, I have been able to create a comprehensive communication system using Leadmaster.
It goes one step beyond just being able to manage my data and communicate with my potential students. Leadmaster also has allowed me to better manage the work flow in our office. My staff know who they are responsible for recruiting, and what the exact procedure should be with each and every student. The system also allows us to essentially go paperless in our process, cutting back on all kinds of office missteps.
Leadmaster is an intuitive system, which means that I have been able to design and use their tools with great ease. Better than any of that is that my staff, including those with little to no database background, have been able to contribute to its functionality for the office. Training was a snap, and each and every time I found myself in a pickle, the folks at Leadmaster have been fantastic in setting me straight.
I anticipate that, a year from now, Leadmaster will have played a significant role in increasing our new student enrollment. I know this because we are going to, for the first time in years, be able to track all levels of marketing effectiveness and make those critical marketing decisions in a timely manner. I will be able, through the tools of Leadmaster, to project revenue for the first time in our college's history, and be able to share with our leadership exactly why and how a student enrolls at our institution.
Leadmaster has its limitations in the sense that it is not a records management system, and any educational institution must understand this is a product designed for enrolling students, not tracking students through graduation. Leadmaster has allowed us to easily integrate the data from admissions to our institutional management system with great ease.
---
Dissatisfied to say the least!
---
During my career as a sales manager and business owner, I've worked with about a half dozen different CRM systems, including Salesforce. I've encountered resistance from sales reps that wanted to remain steadfast in their old habits, I've encountered CRM providers that aren't as responsive "after" the sale, and I've had CRM systems that stalled progress and potential.
Just over one year ago I contacted a former colleague and asked if there was anything "fresh" in the CRM world. He pointed me to Leadmaster, claiming that his clients loved it and found it to be the most functional CRM they had ever used. After taking a tour of the website and experiencing a demo with Tony, I was fascinated and eager to put the application into use for one of my clients.
Well, I've now installed Leadmaster into three clients' platforms - a medical device company, a dental manufacturer and a biometric company. The nurturing/drip marketing, the emal tools and the reports features are outstanding. More important, the sales reps that are introduced to Leadmaster immediately witness the benefits of the "marketing tools on steroids" and embrace the entire process. Eventually, the rep recognizes that having Leadmaster at their side is the equivalent of hiring the best personal assistant one could find.
Lastly, any CRM installation and build-out is going to require service. At Leadmaster I speak with the "exact" same customer service contact each and every time! They already understand my objectives, so I don't have to start each service issue by offering an entire history.
I tend to judge things by measuring their ability to meet expectations. Leadmaster has exceeded every expectation I had, and erased some of the distaste I had from bad experiences with CRM providers in the past. Leadmaster - you restored my faith that YES, a business can truly deliver on its promises and make me a stronger company!
---
Once we diligently utilized the software, we were able to create reports that showed the effectiveness of our salespeople in each step of the sales process. Subsequently, we were able to get a clearer picture on where they needed coaching.
---
Vergleiche die Gesamtbewertung mit Alternativen
Mit Alternativen vergleichen
Vergleiche Nutzerempfehlungen mit Alternativen
Mit Alternativen vergleichen
LeadMaster Preis
LeadMaster Preis
Preis-Leistungs-Verhältnis
Vergleiche das Preis-Leistungs-Verhältnis mit Alternativen
Mit Alternativen vergleichen
LeadMaster Funktionen
LeadMaster Funktionen
Automatische Benachrichtigungen
Berichterstattung und Statistik
Verkaufsberichterstattung
Werkzeuge zur Zusammenarbeit
Vergleiche Funktionen mit Alternativen
Mit Alternativen vergleichen
Kategorien
LeadMaster Häufig gestellte Fragen
LeadMaster Häufig gestellte Fragen
Weiter unter folgen häufig gestellte Fragen über LeadMaster.
F. Welche Preispläne bietet LeadMaster an?
LeadMaster bietet folgende Kostenpläne an:
Beginnt ab: 0,00 $
Preismodell: Kostenlos, Abonnement
Gratis Testen: Verfügbar
F. Was sind die Hauptfunktionen von LeadMaster?
Wir haben keine Informationen über die Funktionen von LeadMaster
F. Wer sind die typischen Nutzer von LeadMaster?
LeadMaster hat die folgenden typischen Kunden:
Kleine Unternehmen, Großunternehmen, Öffentliche Verwaltung, Non-Profit, Freie Mitarbeiter, Mittlere Unternehmen
F: Welche Sprachen werden von LeadMaster unterstützt?
LeadMaster unterstützt die folgenden Sprachen:
Chinesisch (vereinfacht), Englisch, Spanisch
F. Welche Preispläne bietet LeadMaster an?
LeadMaster hat folgende Preismodelle:
Kostenlos, Abonnement
F. Unterstützt LeadMaster mobile Geräte?
LeadMaster unterstützt die folgenden Geräte:
iPhone, iPad
F. Mit welchen anderen Applikationen integriert LeadMaster?
LeadMaster kann in folgende Anwendungen integriert werden:
Campaign Monitor, Constant Contact, HubSpot CRM, HubSpot Marketing Hub, Mailchimp, PieSync, Robly, Samepage, SharpSpring, eLuminate
F. Welche Varianten der Kundenbetreuung bietet LeadMaster an?
LeadMaster bietet folgende Optionen für Kundensupport:
Telefon-Support, Online-Support