MyTime Übersicht
Was ist MyTime?
MyTime ist eine vollständig integrierte Plattform für Terminplanung, Point of Sale und Kundenengagement für Ketten und Franchiseunternehmen mit mehreren Standorten, die Unternehmen dabei unterstützen, den Kundenstamm auszubauen, Kunden zu planen und zu binden.
MyTime bietet in einer Anwendung alle Tools, die Unternehmen benötigen: einen umfassenden Terminplaner, einen Client Relationship Manager (CRM), E-Mail-Marketing, Online-Werbung und Anwesenheitsmanagement, Point of Sale und mehr. MyTime eignet sich für Unternehmen jeder Größe, von Einzelhändlern bis hin zu nationalen Franchiseunternehmen. Nutzer können auf MyTime im Web oder unterwegs mit iPhone- und Android-Apps zugreifen.
Die Planungs- und Geschäftsplattform von MyTime integriert sich auch in den beliebten Marketplace, in dem Millionen von Kunden nach lokalen Unternehmen suchen, Bewertungen, Beschreibungen und Preise sehen und in Echtzeit buchen können. MyTime arbeitet auch mit Google, Facebook, YP.com, Local.com und anderen zusammen, sodass Unternehmen leichter sichtbar und leichter für neue Kunden zu finden sind.
MyTime Übersicht
Kosten
Preisoptionen
Preis-Leistungs-Verhältnis
---
MyTime Funktionen
Märkte
Vereinigte Staaten von Amerika
Unterstützte Sprachen
Englisch
Medien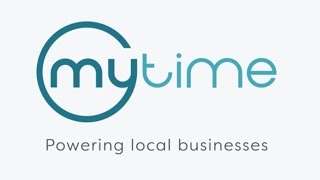 MyTime Bewertungen
MyTime Bewertungen
Preis-Leistungs-Verhältnis
4,6
98%
haben diese Anwendung empfohlen
I've been with MyTime for about a month now and have been thoroughly impressed with this company. Their customer service is phenomenal! They have a quick link to send feedback on the app/software that makes it easy to either report an issue or suggest a feature. I've submitted several ideas and had a couple of glitches and have been pleasantly surprised to either receive a response by email or even a telephone call! MyTime has literally called me four or five times to discuss either my ideas or understand a small issue I'm experiencing. Who does that anymore?! I love it! I have direct phone numbers and email address to real people who answer the phone. Awesome.
I could go on forever about the customer service but I actually love the software and app as well!
App: We have tried several different scheduling software options only to find that none of them could form to what we need for our home based business or they didn't have a mobile app to use on the go. We own an on the go business with no store front so 100% of our customer interaction is in their homes or through technology. With the app we can schedule appointments and input client information, call and message clients and check out analytic info.
The software adds that much more to the software possibility. You can customize automatic, and professional looking emails/text messages to be sent as reminders or thank yous. You can ask for reviews automatically. You can check on the customers profile to see what type of communication they've received through the app. You can also schedule employees and easily manage their time.
I don't know a lot about how this works, but each time you schedule on MyTime it helps with SEO. They do stuff to help you show up better in the search engine...I don't know all the details but it sounded really good for small business trying to get their names out there :)
There's plenty more that can be said, but just experience it for yourself. You wont be disappointed!
---
Overall mostly happy we made the switch, but wish it wasn't so expensive and wish some bugs would be addressed.
---
The sales rep was extremely pushy when convincing me to subscribe to MyTime and was so confident that it would suit my needs after describing in precise detail what I needed. They should have never taken me as a client because it doesn't function well at all for what we need. I would be fine with the workarounds that were suggested to me if they worked, but they don't. Services that should be available becasue I have it set up perfectly will just randomly disappear. My clients see our marketing dollars at work and call wanting to sign up, but say that it looks like the appointments are booked up. The sales rep convinced me to sign up during my high season, promising that I wouldn't get charged until I actually started using the system. And promised that if I decided it wasn't a good solution for me, he'd have "no problem" getting me out of the contract. I started getting charged for MyTime LONG before I was ready to even begin setting it up. And I reached out to that sales rep for help, and he was no longer with the company. Not only did the MyTime staff not hold up the promises of their sales rep they employed, but they also agreed that I made a terrible mistake by believing him. The customer service is terrible and the system is glitchy. They don't care that they've cost my business thousands of dollars..... just awful.
---
scheduling is a lot more detailed and convenient
---
Vergleiche die Gesamtbewertung mit Alternativen
Mit Alternativen vergleichen
Vergleiche Nutzerempfehlungen mit Alternativen
Mit Alternativen vergleichen
MyTime Preis
MyTime Preis
Preis-Leistungs-Verhältnis
Vergleiche das Preis-Leistungs-Verhältnis mit Alternativen
Mit Alternativen vergleichen
MyTime Funktionen
MyTime Funktionen
Anpassbare Berichterstellung
Automatische Benachrichtigungen
Benutzerdefinierte Felder
Berichterstattung und Statistik
Kundenspezifisches Branding
Vergleiche Funktionen mit Alternativen
Mit Alternativen vergleichen
Kategorien
MyTime Häufig gestellte Fragen
MyTime Häufig gestellte Fragen
Weiter unter folgen häufig gestellte Fragen über MyTime.
F. Welche Preispläne bietet MyTime an?
MyTime bietet folgende Kostenpläne an:
Beginnt ab: 74,00 $/Monat
Preismodell: Abonnement
Gratis Testen: Nicht verfügbar
F. Was sind die Hauptfunktionen von MyTime?
Wir haben keine Informationen über die Funktionen von MyTime
F. Wer sind die typischen Nutzer von MyTime?
MyTime hat die folgenden typischen Kunden:
Kleine Unternehmen, Großunternehmen, Mittlere Unternehmen
F: Welche Sprachen werden von MyTime unterstützt?
MyTime unterstützt die folgenden Sprachen:
Englisch
F. Welche Preispläne bietet MyTime an?
MyTime hat folgende Preismodelle:
Abonnement
F. Unterstützt MyTime mobile Geräte?
MyTime unterstützt die folgenden Geräte:
Android, iPhone, iPad
F. Mit welchen anderen Applikationen integriert MyTime?
MyTime kann in folgende Anwendungen integriert werden:
Facebook, Google Calendar, Google Maps, Instagram, Microsoft Outlook, QuickBooks Online, QuickBooks Online Advanced
F. Welche Varianten der Kundenbetreuung bietet MyTime an?
MyTime bietet folgende Optionen für Kundensupport:
Online-Support, Telefon-Support, Wissensdatenbank, Häufig gestellte Fragen