Quire Übersicht
Was ist Quire?
Quire ist ein modernes Tool für kollaboratives Projektmanagement, das speziell für Teams entwickelt wurde, um ihnen dabei zu helfen, ihre Ideen, Ziele oder Träume in einer einfachen und nutzerfreundlichen UI umzusetzen.
Dank der einzigartigen visuellen Baumstruktur kannst du Aufgaben, Teilaufgaben und ihre Unteraufgaben auf einen Blick einsehen, ohne auf eine bestimmte Aufgabe klicken oder in einer langen Liste nach einer einzelne Aufgabe, die nur darauf wartet, vergessen zu werden, suchen zu müssen.
Dank der einzigartigen Baumstruktur von Quire kannst du deine Aufgabe in einzelne Schritte aufteilen, sodass du sofort einen übersichtlichen Plan erhältst. Außerdem wird dein Plan in jedem kurzen Zeitraum in minimale Aufgaben unterteilt, sodass du dich mühelos auf diese konzentrieren kannst, ohne dir Gedanken darüber machen zu müssen, was als Nächstes zu tun ist.
Mit Funktionen wie Beschreibung, Kommentaren, Beauftragten, Start- und Fälligkeitsdatum sowie Benachrichtigungen kannst du Aufgaben an deine Teammitglieder delegieren, nahtlos mit ihnen zusammenarbeiten und alles, was gerade passiert, in Echtzeit verfolgen.
Quire Übersicht
Kosten
Preisoptionen
Preis-Leistungs-Verhältnis
---
Quire Funktionen
Märkte
Vereinigte Staaten von Amerika, Kanada, Vereinigtes Königreich, Australien, Japan, Deutschland
Unterstützte Sprachen
Deutsch, Englisch, Portugiesisch
Medien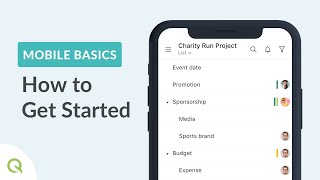 Quire Bewertungen
Quire Bewertungen
Preis-Leistungs-Verhältnis
4,8
98%
haben diese Anwendung empfohlen
Most of my project are freelance and project based, so i require a project management platform that will allow me to manage several projects for more than one organization. I had been using Trello for this and whilst it has served be well, it does not have a good structure for organizing tasks and making sure they are followed up, in that sense its a bit too informal. Quire bring structure to the tasks and a simple interface that bring focus to clarity to the project.
---
It took all of 4 days for me to become comfortable with their version of markdown and the in line task entry system. Creating check boxes, tables, asigning tasks in line, assigning deadlines and start dates in line, all of it.
There has been no issues to date with the software, and I am now using it to organize my entire life. NOT just my working life.
Getting my team onboard was easy, and everyone who uses the software comments on how easy it was to learn to use in our context, and how lightweight/quick it is to use.
---
Easy to get up and running and stick to it.
It's easy to end up using tools intermittently - oh I should get organised -> spend time organising -> get busy -> too much effort to organise ->oh I should get organised...
So far, I've managed to maintain a consistent level of using it to drive what I'm focusing on rather than it being an after-the-fact overhead which is what most tools devolve to when they're too separated from how we really work.
---
Very good, the best "tasks" app we ever used.
---
Vergleiche die Gesamtbewertung mit Alternativen
Mit Alternativen vergleichen
Vergleiche Nutzerempfehlungen mit Alternativen
Mit Alternativen vergleichen
Quire Preis
Vergleiche das Preis-Leistungs-Verhältnis mit Alternativen
Mit Alternativen vergleichen
Quire Funktionen
Quire Funktionen
Automatische Benachrichtigungen
Berichterstattung und Statistik
Gemeinsamer Arbeitsbereich
Kundenspezifisches Branding
Werkzeuge zur Zusammenarbeit
Vergleiche Funktionen mit Alternativen
Mit Alternativen vergleichen
Kategorien
Quire Häufig gestellte Fragen
Quire Häufig gestellte Fragen
Weiter unter folgen häufig gestellte Fragen über Quire.
F. Welche Preispläne bietet Quire an?
Quire bietet folgende Kostenpläne an:
Preismodell: Kostenlos
Gratis Testen: Nicht verfügbar
F. Was sind die Hauptfunktionen von Quire?
Wir haben keine Informationen über die Funktionen von Quire
F. Wer sind die typischen Nutzer von Quire?
Quire hat die folgenden typischen Kunden:
Kleine Unternehmen, Mittlere Unternehmen
F: Welche Sprachen werden von Quire unterstützt?
Quire unterstützt die folgenden Sprachen:
Deutsch, Englisch, Portugiesisch
F. Welche Preispläne bietet Quire an?
Quire hat folgende Preismodelle:
Kostenlos
F. Unterstützt Quire mobile Geräte?
Quire unterstützt die folgenden Geräte:
Android, iPhone, iPad
F. Mit welchen anderen Applikationen integriert Quire?
Quire kann in folgende Anwendungen integriert werden:
GitHub, Google Calendar, Google Drive, Slack
F. Welche Varianten der Kundenbetreuung bietet Quire an?
Quire bietet folgende Optionen für Kundensupport:
Forum, Häufig gestellte Fragen, Video-Anleitungen