Agiloft Übersicht
Was ist Agiloft?
Agiloft unterstützt sofort einsatzbereite Lösungen für den Kundensupport, internen Helpdesk, das Vertragsmanagement, den Workflow und BPM, ITL und ITSM, das Änderungsmanagement, das Asset-Management, das Projekt- und Aufgabenmanagement, das Dokumentenmanagement, die RMA-Verarbeitung, das IT-Ticketing und die Lizenzgenerierung. Agiloft Helpdesk erhält hervorragende Bewertungen von Nutzern und Analysten und ist drei Jahre in Folge von Info-Tech mit der Auszeichnung "Best Overall Value" bedacht worden. Agiloft Help Desk passt sich deinem Servicestil an. Die Anwendung richtet sich nach dir und nicht umgekehrt. Steigere die Organisationseffizienz durch eine schnellere Ticketauflösung, erhöhe die Konsistenz und erhalte umsetzbare Erkenntnisse.
Kunden bestätigen, dass Lösungen der Konkurrenz nicht mithalten können. Enthält ein anpassbares Self-Service-Portal, eine Workflow-Automatisierungs-Engine, Dashboard-Leistungskennzahlen und mehr. Automatisiere die Aufgabenzuweisung und steigere die Effizienz deiner Mitarbeiter im gesamten Unternehmen. Verwende den Helpdesk allein, zusammen mit der Agiloft Service Desk Suite oder mit anderen Agiloft-Anwendungen. Verfügbar als gehostete Cloud-Lösung oder als interne Bereitstellung. Wird von mehr als 3 Millionen Fachleuten bei Start-ups und bei Fortune-100-Unternehmen verwendet. Starte noch heute und erkenne den Unterschied, den echte geschäftliche Agilität ausmachen kann.
Agiloft Übersicht
Kosten
Preisoptionen
Preis-Leistungs-Verhältnis
---
Agiloft Funktionen
Märkte
Vereinigte Staaten von Amerika
Unterstützte Sprachen
Englisch
Media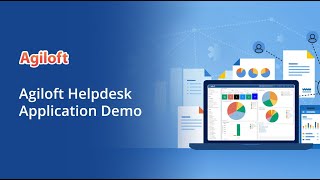 Agiloft Bewertungen
Agiloft Bewertungen
Preis-Leistungs-Verhältnis
4,8
100%
haben diese Anwendung empfohlen
The management of electronic signatures is one of the biggest strengths of agiloft, so its use is highly recommended to handle virtual documents. We recommend reviewing your varied file recovery options, and to be able to work even without being connected to the internet.
---
PROS: Agiloft especially excels at scalable customization, fair pricing and customer service. All the staff I've encountered at Agiloft (not just the initial sales contact), from the implementers to the billing staff, have been responsive, friendly and helpful with a "can-do" positive attitude. They are a professional, dependable service-oriented team. Billing with Agiloft has always been very fair and transparent. The possibilities with Agiloft's system are nearly limitless. If inclined, the administrator can take on a significant amount of the maintenance and design of the system. I had no programming experience, but using the available documentation/tutorials and custom training available along with the creative ideas my implementer offered, I was able to become quite independent and save our company money while having a tailored, high performing contract system that grows with our organization's needs.

CONS: With so many possibilities for customization comes a number of decisions that need to be made. This can be time-consuming, but Agiloft offers the customer the option to make as many or as little of the design decisions as works for them. We'd much rather have the problem of too much choice than a situation where the system doesn't fit our needs enough or where the cost of having an engineer design everything in our system is prohibitively expensive. If your organization wants to handle some of the maintenance and design, there definitely can be a learning curve for the more complex aspects but also great payoff in independence and control of the direction of the system.

RECOMMENDATIONS FOR OTHER BUYERS: We had a very lengthy review process that involved intensive research. We recommend strongly considering how experienced and knowledgeable and stable the vendor is (not just who has the slickest app or tech conference booth). We also recommend noting how much the vendor listens to you during the sales process. Agiloft has been a solid industry leader since the 1990's and did not pressure or rush us to make our decision. They were patient and respectful and worked hard to understand our unique needs as a nonprofit and as a public media organization. We recommend taking time for the demos, using the free trial versions and talking to the vendors thoroughly about what is and isn't included and how they operate. We also recommend reading the PCMag review as it was comprehensive and captured what makes Agiloft different from its competitors.
---
I would recommend Agiloft to anyone needing a fully customizable CRM with a focus on customer relations. the folks at Agiloft go out of their way to understand your business process and where their product would best fit in. Agiloft Customer Support is Outstanding!
---
Still new to the software but it has already eased a lot of the burden we had in our service desk solution.
---
Agiloft has always been quick to solve the few (if any) problems that have occurred, and they are happy to help customize the product to better align with my organization's needs. The customer support team is very reliable and clearly interested in building long-term customer relationships.
---
Vergleiche die Gesamtbewertung mit Alternativen
Mit Alternativen vergleichen
Vergleiche Nutzerempfehlungen mit Alternativen
Mit Alternativen vergleichen
Agiloft Preis
Agiloft Preis
Preis-Leistungs-Verhältnis
Vergleiche das Preis-Leistungs-Verhältnis mit Alternativen
Mit Alternativen vergleichen
Agiloft Funktionen
Agiloft Funktionen
Automatische Benachrichtigungen
Berichterstattung und Statistik
Kundenspezifisches Branding
Multi-Channel-Kommunikation
Vergleiche Funktionen mit Alternativen
Mit Alternativen vergleichen
Kategorien
Agiloft Häufig gestellte Fragen
Agiloft Häufig gestellte Fragen
Weiter unter folgen häufig gestellte Fragen über Agiloft.
F. Welche Preispläne bietet Agiloft an?
Agiloft bietet folgende Kostenpläne an:
Beginnt ab: 65,00 $/Monat
Preismodell: Einmalige Lizenz, Kostenlos, Abonnement
Gratis Testen: Verfügbar
F. Was sind die Hauptfunktionen von Agiloft?
Wir haben keine Informationen über die Funktionen von Agiloft
F. Wer sind die typischen Nutzer von Agiloft?
Agiloft hat die folgenden typischen Kunden:
Kleine Unternehmen, Großunternehmen, Mittlere Unternehmen
F: Welche Sprachen werden von Agiloft unterstützt?
Agiloft unterstützt die folgenden Sprachen:
Englisch
F. Welche Preispläne bietet Agiloft an?
Agiloft hat folgende Preismodelle:
Einmalige Lizenz, Kostenlos, Abonnement
F. Unterstützt Agiloft mobile Geräte?
Wir haben keine Informationen darüber, welche Geräte Agiloft unterstützt
F. Mit welchen anderen Applikationen integriert Agiloft?
Agiloft kann in folgende Anwendungen integriert werden:
Adobe Document Cloud, Adobe Sign, BeyondTrust, DocuSign, LogMeIn Rescue, Microsoft Azure, Okta, OneLogin, Salesforce Sales Cloud, Xero
F. Welche Varianten der Kundenbetreuung bietet Agiloft an?
Agiloft bietet folgende Optionen für Kundensupport:
Häufig gestellte Fragen, Wissensdatenbank, Online-Support, Telefon-Support, Video-Anleitungen