TimeSolv Übersicht
Was ist TimeSolv?
TimeSolv bietet Anwaltskanzleien und anderen professionellen Dienstleistungsunternehmen eine erstklassige webbasierte Zeit-, Abrechnungs- und Projektmanagementlösung.
Die zeitnahe und professionelle Verfolgung und Verwaltung von Zeit und Kosten ist der Schlüssel zur Rentabilität und führt zu verkürzten Zeiten bei der Abrechnung. TimeSolv bietet automatische Zeitmesser oder manuelle Zeiterfassungsfunktionen sowie stündliche und projektbezogene Abrechnungsoptionen für Zeiteinträge.
TimeSolv lässt sich sowohl mit QuickBooks Desktop und QuickBooks Online als auch mit Xero Accounting integrieren. Es wird auch ein Kundenportal angeboten, das es Kunden ermöglicht, online per Kreditkarte zu bezahlen, indem es mit LawPay/Affinipay integriert wird.
TimeSolv bietet eine Dokumentenspeicherlösung und lässt sich in Dropbox und NetDocuments integrieren.
Mit der Offline-Desktop-Anwendung und den mobilen Anwendungen für iOS und Android benötigt man keine Internetverbindung, um Zeit- und Speseninformationen von überall auf der Welt und zu jeder Tages- und Nachtzeit einzugeben.
TimeSolv Übersicht
Kosten
Preisoptionen
Preis-Leistungs-Verhältnis
---
TimeSolv Funktionen
Märkte
Vereinigte Staaten von Amerika, Kanada, Vereinigtes Königreich, Australien, China, Indien
Unterstützte Sprachen
Englisch
Medien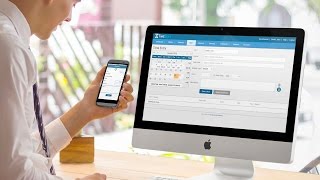 TimeSolv Bewertungen
TimeSolv Bewertungen
Preis-Leistungs-Verhältnis
3,8
92%
haben diese Anwendung empfohlen
Time and Billing system is greatly simplified, predictable, and cloud based. We've cut our time keeping time down, and made the system cloud based and accessible from outside our office. Love the Iphone/Android app.
---
My overall experience with TimeSolv is very positive. I always know exactly where I am on time entry, billing, and expense entry. It's easy to use. For example, I can run a ledger entries report when I'm on the phone with a client trying to determine total hours or expenses, making it possible for me to immediately answer any questions.
---
Disappointing, unprofessional, and a complete waste of our time.
---
I've been using TimeSolv since I started my own law practice over 5 years ago. My first day in my own office, I got a free 30-day subscription to Quick Books, but I found that it was not conducive to a law practice so I went online looking for something else. I was really glad I did because I found TimeSolv and I've been very happy with it. They include a 90-minute tutorial with a live person so you feel like you get started out on the right foot, then if you have questions, they are always available to help. For about the first year or so, I had to call every month when I was doing my invoices since there was usually something I hadn't done before so needed assistance, but they are always very nice about walking me through it. There's one thing I would change if I could, and that is that a bill gets automatically generated for a client every month until there is a zero balance, even if I added no billable time that particular month. I bill on the first of every month for the previous month, and if I send a client a bill that does not get fully paid off before the next bill goes out, and I haven't done any new work for that client that month, then a new bill doesn't automatically generate. However, I like to send out a bill every month just because I won't receive any further payments unless I do so. I have to "trick" the system into generating a bill by putting an expense on and then deleting it. This is a cumbersome solution so I would rather the system do it on its own. Other than that, though, the system is very user friendly and I have no complaints. Before going on my own, I was at a firm for 8 years and we had a bookkeeper to do all our invoices. When I went solo, I was a little apprehensive about having to do it all myself. Timesolv makes it very easy though, and I tell other lawyers about it all the time. Thanks for a great product!
---
Over more than 35 years operating a law practice I have had to implement and use different methods to keep track of time spent working on the client's case and the expenses that were incurred. Out of all of the resources that have been available the most efficient, flexible, and economical has been Time Solve. Occasionally improvements will be made to the program and you may have to take a few minutes to learn them, but if you have the least problem, you can either email or phone Time Solve staff and if you do not immediately speak with a representative you will talk you through the problem, you can be certain that within a few hours or less you will have a response and the help you need. I am not tech savvy and the people who work with me are not much better, but we all have been able to learn to work with Time Solve. Most importantly, it has allowed us to increase our billing time by including time while we are doing the work or if work was not included at the time it was performed, to enter into the client's records and create a draft copy of the bill to review, check for accuracy and then send to the client. Besides, Time Solve will send out the bills for you by either email, U.S. mail, or both if you prefer. It is a great service that has made me a more relaxed attorney because I have solid computer back up if a bill is questioned and the ease of keeping track of my time and which clients demand the most of it.
---
Vergleiche die Gesamtbewertung mit Alternativen
Mit Alternativen vergleichen
Vergleiche Nutzerempfehlungen mit Alternativen
Mit Alternativen vergleichen
TimeSolv Preis
TimeSolv Preis
Preis-Leistungs-Verhältnis
Vergleiche das Preis-Leistungs-Verhältnis mit Alternativen
Mit Alternativen vergleichen
TimeSolv Funktionen
TimeSolv Funktionen
Abrechnung & Rechnungsstellung
Automatische Benachrichtigungen
Berichterstattung und Statistik
Werkzeuge zur Zusammenarbeit
Vergleiche Funktionen mit Alternativen
Mit Alternativen vergleichen
Kategorien
TimeSolv Häufig gestellte Fragen
TimeSolv Häufig gestellte Fragen
Weiter unter folgen häufig gestellte Fragen über TimeSolv.
F. Welche Preispläne bietet TimeSolv an?
TimeSolv bietet folgende Kostenpläne an:
Beginnt ab: 17,95 $/Monat
Preismodell: Abonnement
Gratis Testen: Verfügbar
F. Was sind die Hauptfunktionen von TimeSolv?
Wir haben keine Informationen über die Funktionen von TimeSolv
F. Wer sind die typischen Nutzer von TimeSolv?
TimeSolv hat die folgenden typischen Kunden:
Kleine Unternehmen, Non-Profit, Freie Mitarbeiter, Mittlere Unternehmen
F: Welche Sprachen werden von TimeSolv unterstützt?
TimeSolv unterstützt die folgenden Sprachen:
Englisch
F. Welche Preispläne bietet TimeSolv an?
TimeSolv hat folgende Preismodelle:
Abonnement
F. Unterstützt TimeSolv mobile Geräte?
TimeSolv unterstützt die folgenden Geräte:
Android, iPhone, iPad
F. Mit welchen anderen Applikationen integriert TimeSolv?
TimeSolv kann in folgende Anwendungen integriert werden:
Dropbox Business, LawPay, MYOB Essentials, Microsoft 365, NetDocuments, NetDocuments, QuickBooks Online, QuickBooks Online Advanced, Xero
F. Welche Varianten der Kundenbetreuung bietet TimeSolv an?
TimeSolv bietet folgende Optionen für Kundensupport:
Telefon-Support, Online-Support, Wissensdatenbank, Video-Anleitungen