HelpCrunch Übersicht
Was ist HelpCrunch?
HelpCrunch bietet eine Kundenkommunikationsplattform für Kundenservice, Vertrieb und schnelles Geschäftswachstum. Die Plattform umfasst einen Live-Chat, In-App-Messenger, E-Mail-Automatisierung und Helpdesk in einer Lösung. HelpCrunch ermöglicht es Benutzern, nahtlos zwischen mehreren Kanälen zu wechseln und die gesamte Kommunikation im selben Thread zu speichern. Alle Unternehmenswebsites und Apps (iOS/Android) können einem Konto hinzugefügt werden, um eine zentrale Verwaltung der gesamten Kundenkommunikation zwischen verschiedenen Produkten zu gewährleisten.
HelpCrunch Übersicht
Kosten
Preisoptionen
Preis-Leistungs-Verhältnis
---
HelpCrunch Funktionen
Märkte
Vereinigte Staaten von Amerika, Kanada, Vereinigtes Königreich, Australien, Indien
und 4 weitere
, Japan, Deutschland, Brasilien, Mexiko
Unterstützte Sprachen
Deutsch, Englisch, Französisch, Italienisch, Niederländisch
und 5 weitere
, Polnisch, Portugiesisch, Russisch, Spanisch, Ukrainisch
Medien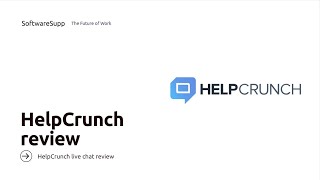 HelpCrunch Bewertungen
HelpCrunch Bewertungen
Preis-Leistungs-Verhältnis
4,8
99%
haben diese Anwendung empfohlen
HelpCruch has everything we need to automate the process of catching leads, providing necessary information to them and don't let them forget about us after we had a chat.
All the features are pretty detailed which helps to create what you really need. For instance, a pop-up. You can select different styles, colors, there is no limit on what you do. That's why your work with HelpCrunch is a pleasure.
One more thing, that will definitely win your heart is outstanding online customer support HelpCrunch has. They treat you not as a random user, but like a friend. Furthermore, they do release the features you request. They are just fabulous :)
---
We use HelpCrunch as our primary support tool (for potential customers with questions, for customers with questions, for feedback reports, etc). Installation and subscribing was easy using a WordPress plugin, and the interface is easy to understand, configure, and use if you're familiar with web interfaces like Google Apps, Intercom (to which HelpCrunch is very similar, and far less expensive). The mobile app allows us to respond immediately to customers without being tied to a desk. Being in the early stages (first year) of a software release, this allows us to get immediate feedback from our customers, and, possibly more importantly, from those who would be our customers except for some reason, so that we can make good decisions.
---
Refused to allow me to cancel, even though I attempted to do so on the renewal date, and even though their app isn't working, so I can't respond to customers through the app. They suggested that I could enable email notifications - completely negating the point of instant response.
---
While we were only looking for a chat solution, and had two bad experiences with competitors who had "automated solutions" where no-one was actually there to sort their bugs out.
Helpcrunch, on the other hand was reactive from day 1. We were pretty quick to install it on our system (both website & SaaS).
We programmed dozens of automated messages, also use it to push product news to our customers, and get quick feedback through the chat for our on-trial customers.
Overall, I recommand Helpcrunch for Chat Messenging and E-mailing, though I have not tested all the options that are part of our package (such as the integrated Resource Center)
I look forward for further developments of the solution in 2020 !
---
Vergleiche die Gesamtbewertung mit Alternativen
Mit Alternativen vergleichen
Vergleiche Nutzerempfehlungen mit Alternativen
Mit Alternativen vergleichen
HelpCrunch Preis
HelpCrunch Preis
Preis-Leistungs-Verhältnis
Vergleiche das Preis-Leistungs-Verhältnis mit Alternativen
Mit Alternativen vergleichen
HelpCrunch Funktionen
HelpCrunch Funktionen
Automatische Benachrichtigungen
Berichterstattung und Statistik
Kundenspezifisches Branding
Multi-Channel-Kommunikation
Vergleiche Funktionen mit Alternativen
Mit Alternativen vergleichen
Kategorien
HelpCrunch Häufig gestellte Fragen
HelpCrunch Häufig gestellte Fragen
Weiter unter folgen häufig gestellte Fragen über HelpCrunch.
F. Welche Preispläne bietet HelpCrunch an?
HelpCrunch bietet folgende Kostenpläne an:
Beginnt ab: 15,00 $/Monat
Preismodell: Abonnement
Gratis Testen: Verfügbar
F. Was sind die Hauptfunktionen von HelpCrunch?
Wir haben keine Informationen über die Funktionen von HelpCrunch
F. Wer sind die typischen Nutzer von HelpCrunch?
HelpCrunch hat die folgenden typischen Kunden:
Kleine Unternehmen, Großunternehmen, Non-Profit, Freie Mitarbeiter, Mittlere Unternehmen
F: Welche Sprachen werden von HelpCrunch unterstützt?
HelpCrunch unterstützt die folgenden Sprachen:
Deutsch, Englisch, Französisch, Italienisch, Niederländisch, Polnisch, Portugiesisch, Russisch, Spanisch, Ukrainisch
F. Unterstützt HelpCrunch mobile Geräte?
HelpCrunch unterstützt die folgenden Geräte:
Android, iPhone, iPad
F. Mit welchen anderen Applikationen integriert HelpCrunch?
HelpCrunch kann in folgende Anwendungen integriert werden:
Magento Commerce, Magento Commerce, Slack, Wordpress, Wordpress
F. Welche Varianten der Kundenbetreuung bietet HelpCrunch an?
HelpCrunch bietet folgende Optionen für Kundensupport:
Online-Support, Wissensdatenbank, Häufig gestellte Fragen