Yellowfin Übersicht
Was ist Yellowfin?
Yellowfin ist deine komplette Business-Intelligence-Plattform. Von Daten zu Dashboards bietet Yellowfin eine erstaunliche Collaborative-BI-Erfahrung.
Jeder behauptet Benutzerfreundlichkeit, aber Yellowfin definiert den Standard für alle anderen. Das Interface ist mehr als schön. Du findest die fortschrittlichsten BI-Funktionen an den logischsten Orten, alle mit Point-and-Click-Einfachheit. Du musst keine einzige SQL-Zeile lernen – so wird Business Intelligence einfach.
Yellowfin Übersicht
Kosten
Preisoptionen
Preis-Leistungs-Verhältnis
---
Yellowfin Funktionen
Märkte
Vereinigte Staaten von Amerika, Kanada, Vereinigtes Königreich, Australien, China
und 3 weitere
, Indien, Japan, Deutschland
Unterstützte Sprachen
Englisch
Medien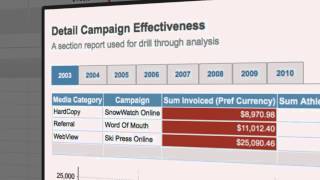 Yellowfin Bewertungen
Yellowfin Bewertungen
Preis-Leistungs-Verhältnis
4,6
94%
haben diese Anwendung empfohlen
The VSV team develops reports and dashboards quickly, simply and dynamically. Yellowfin has an easy to use and intuitive user interface (clients do not need deep training). We managed to create reports and panels with maps thanks to location intelligence. In addition, the integration of Yellowfin with predictive analytical tools and Big Data processing such as R, UDF, Spark are ideal for creating rich applications for end users. Yellowfin allows the connection of multiple data sources.
---
We really like using Yellowfin. While the lack of cloud services and coding to customize are minor issues, we do not have much to complain about. It's very user-friendly and we have easily been able to teach others how to use it. The fact that the program is useable on both Mac and PC makes it a great option. The program is certainly worth the cost.
---
Overall it's a great product for casino business use.
---
We did not end up implementing this live for our clients but it was a nice software and if our client base was smaller or our software data scheme less complex we would have used this. There was not anything wrong really just was not the correct software for our company.
---
Vergleiche die Gesamtbewertung mit Alternativen
Mit Alternativen vergleichen
Vergleiche Nutzerempfehlungen mit Alternativen
Mit Alternativen vergleichen
Yellowfin Preis
Yellowfin Preis
Preis-Leistungs-Verhältnis
Vergleiche das Preis-Leistungs-Verhältnis mit Alternativen
Mit Alternativen vergleichen
Yellowfin Funktionen
Yellowfin Funktionen
Anpassbare Berichterstellung
Berichterstattung und Statistik
Werkzeuge zur Zusammenarbeit
Vergleiche Funktionen mit Alternativen
Mit Alternativen vergleichen
Kategorien
Yellowfin Häufig gestellte Fragen
Yellowfin Häufig gestellte Fragen
Weiter unter folgen häufig gestellte Fragen über Yellowfin.
F. Welche Preispläne bietet Yellowfin an?
Yellowfin bietet folgende Kostenpläne an:
Beginnt ab: 600,00 $/Jahr
Preismodell: Abonnement
Gratis Testen: Verfügbar
F. Was sind die Hauptfunktionen von Yellowfin?
Wir haben keine Informationen über die Funktionen von Yellowfin
F. Wer sind die typischen Nutzer von Yellowfin?
Yellowfin hat die folgenden typischen Kunden:
Kleine Unternehmen, Großunternehmen, Mittlere Unternehmen
F: Welche Sprachen werden von Yellowfin unterstützt?
Yellowfin unterstützt die folgenden Sprachen:
Englisch
F. Unterstützt Yellowfin mobile Geräte?
Yellowfin unterstützt die folgenden Geräte:
Android, iPhone
F. Mit welchen anderen Applikationen integriert Yellowfin?
Yellowfin kann in folgende Anwendungen integriert werden:
Blendo, Dynamics 365, Marketo Engage, Microsoft Azure, Oracle CRM On Demand, PieMatrix "Pie", Salesforce Sales Cloud, Twitter, Xero, Zendesk
F. Welche Varianten der Kundenbetreuung bietet Yellowfin an?
Yellowfin bietet folgende Optionen für Kundensupport:
Online-Support, Video-Anleitungen, Wissensdatenbank