Wix Übersicht
Was ist Wix?
Wix ist eine Plattform zum Erstellen und Publizieren von Websites, mit der Nutzer professionelle Webseiten mit einem Drag-and-Drop-Website-Builder, von Designern erstellten Vorlagen und mehr erstellen können wie sie es wünschen. Wix bietet Benutzern verschiedene Möglichkeiten, ihre Website zu erstellen, einschließlich Wix Artificial Design Intelligence (ADI), Wix Editor und Wix Code, je nachdem, ob der Benutzer eine Website zum ersten Mal erstellt oder ob es ein Profi macht.
Wix ADI ermöglicht es Benutzern, eine einzigartige Website mit professionellen Texten, Bildern und mehr zu erstellen, während Wix Editor den Benutzern Gestaltungsfreiheit mit erweiterten Funktionen und einfachem Drag and Drop bietet. Mit Wix Code können Benutzer Websites auf dem neuesten Stand der Technik und Apps erstellen. Wesentliche unentbehrliche Funktionen von Wix sind einfaches Drag and Drop, Optimierung für Mobilgeräte, benutzerdefinierte Domainnamen und One-Pager-Websites sowie schöne Blogs, Social Buttons und Online-Shops. Benutzer können Website-Design mit Vorlagen, einem Bildbearbeitungsprogramm und hochauflösenden Bildern sowie Videohintergründen und mehr verwalten.
Wix unterstützt eine Reihe von Business-Tools, einschließlich Site Analytics, einem SEO-Assistenten und einem personalisierten Postfach sowie Kommunikations- und Finanz-Tools. E-Mail-Marketing-Technologie ermöglicht es Benutzern, einfach E-Mails über Verkäufe, neue Produkte, Dienstleistungen oder Ereignisse zu erstellen, zu senden und zu teilen. Wix bietet auch verschiedene Support-Optionen wie eine 24/7-Hilfe, Knowledge Base, Video-Tutorials und Walkthroughs sowie Telefonanrufe.
Wix Übersicht
Kosten
Preisoptionen
Preis-Leistungs-Verhältnis
---
Wix Funktionen
Märkte
Vereinigte Staaten von Amerika, Kanada, Vereinigtes Königreich, Australien, China
und 5 weitere
, Indien, Japan, Deutschland, Brasilien, Mexiko
Unterstützte Sprachen
Deutsch, Englisch, Französisch, Italienisch, Japanisch
und 3 weitere
, Portugiesisch, Russisch, Spanisch
Medien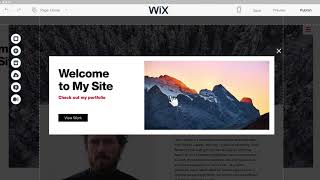 Wix Bewertungen
Wix Bewertungen
Preis-Leistungs-Verhältnis
4,3
86%
haben diese Anwendung empfohlen
I use wix to build my business website. Considering that it is free to use, I didn't have to spend any budget to get my business website done. I also didn't have to pay website developers as all I needed to get things done were available on the Wix platform.
---
We predominantly used Wix to spin up web templates for clients. It was always easy to train fellow co-workers on.
---
The handling of the webpage is very easy and so it removes a great amount of load. I have not yet used or tried the Customer Service may be because I did not felt the need so far which is actually a good point. I once was about to call the customer care when it was showing me to upgrade when I already have purchased the premium service. But then the FAQ's popped up and my problem was solved.
---
I have designed two websites with Wix. I am extremely pleased with how one website looks and with the email campaigns that have been super easy to set up and send out. That client needed a beautiful site and email functionality. Wix was cost effective for this purpose and she is able to make minor changes even though she is not tech-savvy. My other client needed shopping cart functionality and already had his site made at Wix. I made the site look nicer and loaded all of his items into the cart... but Wix could not handle the size of the store. The site works and looks great, but he had to use Shopify for his purposes. Overall, I choose WordPress because, as a designer, I need 100% functionality and the ability to do anything my clients need. Out of the box, Wix can't do some of these custom things. But I have no problem recommending Wix as the CMS to use when you are not a designer and you can't afford SquareSpace (nor should you use Squarespace because, despite SqSp marketing, a developer is required for simple changes). I am not a fan of Squarespace. So! Use Wix if WordPress is too big of a beast. :)
---
I had the best experience with Wix. I am building an e-commerce store for document preparation and will launch soon. But till now I have seen Wix being so friendly and easy to use. I had an awesome experience in building my portfolio and website with Wix.
I would highly recommend this website builder to a beginner friend of mine!! Without a miss!!
---
Vergleiche die Gesamtbewertung mit Alternativen
Mit Alternativen vergleichen
Vergleiche Nutzerempfehlungen mit Alternativen
Mit Alternativen vergleichen
Wix Preis
Wix Preis
Preis-Leistungs-Verhältnis
Vergleiche das Preis-Leistungs-Verhältnis mit Alternativen
Mit Alternativen vergleichen
Wix Funktionen
Wix Funktionen
Automatische Benachrichtigungen
Berichterstattung und Statistik
Kundenspezifisches Branding
Vergleiche Funktionen mit Alternativen
Mit Alternativen vergleichen
Kategorien
Wix Häufig gestellte Fragen
Wix Häufig gestellte Fragen
Weiter unter folgen häufig gestellte Fragen über Wix.
F. Welche Preispläne bietet Wix an?
Wix bietet folgende Kostenpläne an:
Beginnt ab: 4,50 €/Monat
Preismodell: Kostenlos, Abonnement
Gratis Testen: Verfügbar
F. Was sind die Hauptfunktionen von Wix?
Wir haben keine Informationen über die Funktionen von Wix
F. Wer sind die typischen Nutzer von Wix?
Wix hat die folgenden typischen Kunden:
Kleine Unternehmen, Großunternehmen, Öffentliche Verwaltung, Non-Profit, Freie Mitarbeiter, Mittlere Unternehmen
F: Welche Sprachen werden von Wix unterstützt?
Wix unterstützt die folgenden Sprachen:
Deutsch, Englisch, Französisch, Italienisch, Japanisch, Portugiesisch, Russisch, Spanisch
F. Welche Preispläne bietet Wix an?
Wix hat folgende Preismodelle:
Kostenlos, Abonnement
F. Unterstützt Wix mobile Geräte?
Wix unterstützt die folgenden Geräte:
Android, iPhone, iPad
F. Mit welchen anderen Applikationen integriert Wix?
Wix kann in folgende Anwendungen integriert werden:
Acuity Scheduling, Bitium, Bookedin, Bookeo, Constant Contact, HelpOnClick, LeadDyno, LiveChat, Mad Mimi, Zoho SalesIQ
F. Welche Varianten der Kundenbetreuung bietet Wix an?
Wix bietet folgende Optionen für Kundensupport:
Forum, Wissensdatenbank, Online-Support, Telefon-Support, Video-Anleitungen