iBE.net Übersicht
Was ist iBE.net?
iBE.net rationalisiert die Verwaltung von Projekten sowie die Verwaltung von Zeit, Ausgaben, Freizeit, Abrechnung, Berichterstattung, Helpdesk, HR und CRM – sowohl über das Internet als auch über mobile Geräte. Das voll integrierte System bietet eine für ein Cloud-Produkt bahnbrechende Flexibilität. Die Nutzer profitieren von einer maßgeschneiderten Lösung, die auf ihre Geschäftsanforderungen zugeschnitten ist, und sie können so wenige oder so viele Funktionen nutzen, wie sie wollen. iBE.net bietet anpassbare Workflows und leistungsstarke Analysen und verbessert die Produktivität und Rentabilität erheblich.
iBE.net Übersicht
Kosten
Beginnt ab
299,00 $/Monat
Preisoptionen
Preis-Leistungs-Verhältnis
---
iBE.net Funktionen
Märkte
Vereinigte Staaten von Amerika, Kanada, Vereinigtes Königreich, Australien
Unterstützte Sprachen
Englisch
Medien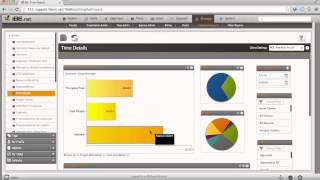 iBE.net Bewertungen
iBE.net Bewertungen
Preis-Leistungs-Verhältnis
4,4
92%
haben diese Anwendung empfohlen
Pros: This product can handle any business requirement that you have as a PS organization, from CRM, to project management, resource management, time/expense, invoicing, integration with accounting systems, and dashboard/reporting. Ingeniously designed, the underlying software architecture of this platform gives tremendous flexibility in forms, data validations and workflows. The out-of-box system is very suitable for small organizations also.
Cons: Usability is an issue, and they are working on this. The result is that the learning curve for new users can be somewhat longer than other systems. You can minimize this by simplifying menus and options for people that are doing specific things like time/expense reporting.
Advice: Be prepared for putting in some effort into the implementation process. iBE.net will support you during the whole process and I think you will find that the investment is worth it.
Overall, a great product and it will save you a lot of time/effort in running your business.
---
We are a medium sized IT Services company with offices in the UK, Switzerland, India and Singapore. We chose iBE as a cost effective solution to replace our inefficient timesheet and expenses process and reduce the amount of manual effort involved in consolidating data and billing our clients.
As a PeopleSoft implementer, we are very familiar with HR systems and I'm delighted to be able to report that functionality wise, iBE has very good coverage. HR admin is effective dated which is good, the system is multi-company and multi-currency which was a crucial requirement for us and menu security allows us to restrict data access to only those who should see it. We've used a small implementation team (i.e. me) so it has been important to take each process in turn and make sure it is configured, data is loaded correctly and then tested thoroughly before releasing it to our consultants. The basic configuration is easy to do so long as you have a firm idea of your requirements before you start (as with any system configuration project) and the iBE guys have been very helpful with this aspect. We've implemented Absence, Expenses, and Timesheets and are looking at Staff Planning next. The help pages are extremely useful but we have developed custom user guides to show the system with our own data in it.
The mobile apps lag slightly behind in their development so I would advise a full test cycle.
I cannot fault iBE in the support they have given us; they have been extremely responsive to any enhancements we have requested and also to resolving the bugs that we have uncovered during testing and launch.
---
we always getting a lot of question about the system, I think the system is not that much easy to use and there are many quality issues, the support team is always helping us trying to give us the best effort but sometime we need a radical solution
for the issue.
---
Evaluating iBE by the features for the price, there is no better product out there. We evaluated 15 PSA solutions, and iBE was the only product out there that could manage our professional service and software resale business from lead to opportunity to closure to project management to invoice. It was also the only product that could meet our requirements without major surgery. The UI takes a little getting used to, but works great for our needs. When we do find bugs or other issues, customer support has been very responsive and fixed critical issues immediately. Expect to spend some effort up front on implementation because the product is very flexible and can be implemented in many ways (without writing code), but I would highly recommend iBE to any PS organization.
---
Vergleiche die Gesamtbewertung mit Alternativen
Mit Alternativen vergleichen
Vergleiche Nutzerempfehlungen mit Alternativen
Mit Alternativen vergleichen
iBE.net Preis
iBE.net Preis
Beginnt ab
299,00 $/Monat
Preis-Leistungs-Verhältnis
Vergleiche das Preis-Leistungs-Verhältnis mit Alternativen
Mit Alternativen vergleichen
iBE.net Funktionen
iBE.net Funktionen
Abrechnung & Rechnungsstellung
Anpassbare Berichterstellung
Automatische Benachrichtigungen
Berichterstattung und Statistik
Echtzeit-Berichterstattung
Vergleiche Funktionen mit Alternativen
Mit Alternativen vergleichen
Kategorien
iBE.net Häufig gestellte Fragen
iBE.net Häufig gestellte Fragen
Weiter unter folgen häufig gestellte Fragen über iBE.net.
F. Welche Preispläne bietet iBE.net an?
iBE.net bietet folgende Kostenpläne an:
Beginnt ab: 299,00 $/Monat
Preismodell: Abonnement
Gratis Testen: Verfügbar
F. Was sind die Hauptfunktionen von iBE.net?
Wir haben keine Informationen über die Funktionen von iBE.net
F. Wer sind die typischen Nutzer von iBE.net?
iBE.net hat die folgenden typischen Kunden:
Kleine Unternehmen, Großunternehmen, Non-Profit, Mittlere Unternehmen
F: Welche Sprachen werden von iBE.net unterstützt?
iBE.net unterstützt die folgenden Sprachen:
Englisch
F. Welche Preispläne bietet iBE.net an?
iBE.net hat folgende Preismodelle:
Abonnement
F. Unterstützt iBE.net mobile Geräte?
iBE.net unterstützt die folgenden Geräte:
Android, iPhone
F. Mit welchen anderen Applikationen integriert iBE.net?
iBE.net kann in folgende Anwendungen integriert werden:
G Suite, QuickBooks Online, QuickBooks Online, Salesforce Sales Cloud
F. Welche Varianten der Kundenbetreuung bietet iBE.net an?
iBE.net bietet folgende Optionen für Kundensupport:
Häufig gestellte Fragen, Forum, Wissensdatenbank, Online-Support, Telefon-Support, Video-Anleitungen