Clio Übersicht
Was ist Clio?
Clio ist die führende Kanzleiverwaltungssoftware für die Rechtsbranche. Mit sicherer, cloudbasierter Technologie erleichtert Clio die tägliche Arbeit von Juristen auf der ganzen Welt mit intuitiver Zeiterfassung, Abrechnung, Verwaltung von Angelegenheiten, mobilen Apps und mehr, um jede Aufgabe von der Kundenaufnahme bis zur Rechnung zu rationalisieren.
Anwaltskanzleien aller Größen verwalten problemlos Kundenbeziehungen und Dokumente, vereinfachen die Verwaltung und Zusammenarbeit und optimieren Marketinginitiativen mit Clio. Mit erstklassiger Schulung und Unterstützung können Anwälte ihre Kanzlei von jedem Ort und von jedem Gerät aus sicher verwalten und weniger Zeit für Büroarbeit und mehr Zeit mit der Ausübung von Recht verbringen. Erfahre mehr unter clio.com.
Clio Übersicht
Kosten
Preisoptionen
Preis-Leistungs-Verhältnis
---
Clio Funktionen
Märkte
Vereinigte Staaten von Amerika, Kanada, Vereinigtes Königreich
Unterstützte Sprachen
Englisch
Medien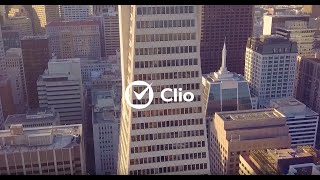 Clio Bewertungen
Clio Bewertungen
Preis-Leistungs-Verhältnis
4,6
96%
haben diese Anwendung empfohlen
Exceptional, professional, easy to use, easy to learn. Simply far more wonderful than I ever expected.
---
If you're not used to a system, this can be made into a good system for you. There are a lot of functions missing--like being able to track time associated with flat fee activities (so you can't track productivity or if you do, you can't print out your billable hours without some discussion to the ethics board). You can track e-mails and phone calls, but not faxes, letters, or text messages. You can set tasks for others that you can update, but the update doesn't get sent to the other person. You can set pop-ups on your calendar for yourself, but not for other people. You can track the budget of a case, but not the running total of transactions or expenses. You can integrate with Quickbooks, but you have to import and export the information--the information does not flow freely between the two. The calendar has all of the same pitfalls as Google Calendar because it is Google calendar but with some functions missing. You can upload and download documents, and you must do that in order to save any changes with Clio (unless you pay for HIPAA-compliant Google Drive Professional). Your receptionist has to separately capture phone messages from your client to you because only you can have conversations. Wandering between the conversations page and the logs page means that you will always end up back in the Matters tab. If you're trying to capture a phone call with a person not in the system you have to exit the phone call and lose all of the information to enter that person before you can save the conversation to a file. It's not customizeable. There are some pros over Amicus but many features I miss (such as being able to track time directly with the phone call, including the time the call was initiated) but it has good parts about it. If you're into nitty-gritty capturing of information and you have the time to invest it can be a good platform but trying to teach established attorneys how to rework their legal practice around it is difficult.
---
Clio takes case management to a whole new level! Not only does it help me better organize my files and tasks, but it helps me quickly go between several tasks and files with ease. Clio helps me make the most of each and every day by its easy time management options - making bills quick and easy! Utilizing Clio Manage with Clio Grow has been the perfect setup that I needed as I started my own firm. There is no question that I am better managing my clients and my practice with the use of this software.
---
Clio set us up for LawPay. Less than 1 week into this month we suddenly can't take anyone's payments. We call Clio and they tell us there is no problem, must be the customer's problem. On two separate occasions they told us there was no limit to the payments we could intake for bills. Finally contact Lawpay who says there is a limit, we exceeded it, and now we can't take another 70 some odd payments this month and the clients all think we are idiots. Why would they sign us up for a program that limits retainers and payments to $10,000 when Clio knows we have 4 full time employees based on the licensees we have?
---
Vergleiche die Gesamtbewertung mit Alternativen
Mit Alternativen vergleichen
Vergleiche Nutzerempfehlungen mit Alternativen
Mit Alternativen vergleichen
Clio Preis
Clio Preis
Preis-Leistungs-Verhältnis
Vergleiche das Preis-Leistungs-Verhältnis mit Alternativen
Mit Alternativen vergleichen
Clio Funktionen
Clio Funktionen
Abrechnung & Rechnungsstellung
Anpassbare Berichterstellung
Automatische Benachrichtigungen
Berichterstattung und Statistik
Integration in die Buchhaltung
Vergleiche Funktionen mit Alternativen
Mit Alternativen vergleichen
Kategorien
Clio Häufig gestellte Fragen
Clio Häufig gestellte Fragen
Weiter unter folgen häufig gestellte Fragen über Clio.
F. Welche Preispläne bietet Clio an?
Clio bietet folgende Kostenpläne an:
Beginnt ab: 39,00 $/Monat
Preismodell: Abonnement
Gratis Testen: Verfügbar
F. Was sind die Hauptfunktionen von Clio?
Wir haben keine Informationen über die Funktionen von Clio
F. Wer sind die typischen Nutzer von Clio?
Clio hat die folgenden typischen Kunden:
Kleine Unternehmen, Großunternehmen, Non-Profit, Freie Mitarbeiter, Mittlere Unternehmen
F: Welche Sprachen werden von Clio unterstützt?
Clio unterstützt die folgenden Sprachen:
Englisch
F. Welche Preispläne bietet Clio an?
Clio hat folgende Preismodelle:
Abonnement
F. Unterstützt Clio mobile Geräte?
Clio unterstützt die folgenden Geräte:
Android, iPhone, iPad
F. Mit welchen anderen Applikationen integriert Clio?
Clio kann in folgende Anwendungen integriert werden:
Chrometa, Cyfe, FactBox, InvoiceSherpa, Law Ruler, PieSync, Teamleader, Wishpond, Xero, Zapier
F. Welche Varianten der Kundenbetreuung bietet Clio an?
Clio bietet folgende Optionen für Kundensupport:
Wissensdatenbank, Online-Support, Telefon-Support, Video-Anleitungen