TrekkSoft Übersicht
Was ist TrekkSoft?
Mit der Buchungssoftware von TrekkSoft kannst du deine eigene personalisierte, markengeschützte Website einrichten, auf der du deine Produkte beschreiben, Live-Bestände veröffentlichen, für deine Produkte werben, Rabatte anbieten und Zahlungen akzeptieren kannst.
Trekksoft bietet jederzeit mobilen Zugriff auf Live-Buchungsinformationen für Endnutzer, Agenten und Mitarbeiter. Die Buchungssoftware kann über ein integriertes Widget in deine aktuelle Website integriert werden.
Du kannst den TrekkSoft-Kanalmanager verwenden, um deine Touren und Aktivitäten den Vertriebspartnern der Branche vorzustellen, du kannst deine Touren auch auf den Websites anderer Anbieter verkaufen oder ihnen erlauben, ihre Touren auf deiner Website zu verkaufen.
TrekkSoft bietet eine Reisemanagementlösung für Reiseunternehmen, mit der sowohl das Backend als auch die Frontend-Operationen deines E-Commerce-Shops verwaltet werden können. Durch die Erstellung deiner eigenen Marken-Website sowie die Möglichkeit, TrekkSoft in andere Websites zu integrieren, kannst du eine effizientere und persönlichere Nutzererfahrung schaffen.
Über verschiedene Nutzerrechte und Zugriffsberechtigungen kannst du TrekkSoft sowohl für den Verkauf an Agenten nutzen, als auch über ein einfach zu bedienendes CMS-Tool Änderungen an deiner Website vornehmen.
TrekkSoft ist mobilfreundlich, sodass Agenten, Kunden und Vertriebsmitarbeiter Touren von ihren mobilen Geräten verkaufen, organisieren und bezahlen können. Du kannst die API von TrekkSoft verwenden, um die App in deine anderen Systeme und Plattformen einzubinden. Integriere Facebook- und Google-Anzeigen und verwende Werbetools wie Rabattcodes, um neue Kunden anzuziehen.
Bewirb deine Touren und Aktivitäten auf dem TrekkSoft-Marktplatz, TrekkMarket, und nutze die Software, um Zahlungen online abzuwickeln. Das TrekkSoft Payment Gateway ist sicher und führt wöchentliche Auszahlungen auf dein Bankkonto aus. Trekksoft kann auch in andere Zahlungsgateways integriert werden.
TrekkSoft Übersicht
Kosten
Preisoptionen
Preis-Leistungs-Verhältnis
---
TrekkSoft Funktionen
Märkte
Vereinigte Staaten von Amerika, Kanada, Vereinigtes Königreich, Australien, China
und 4 weitere
, Japan, Deutschland, Brasilien, Mexiko
Unterstützte Sprachen
Deutsch, Englisch, Französisch, Italienisch, Niederländisch, Portugiesisch, Spanisch
Medien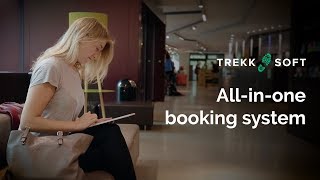 TrekkSoft Bewertungen
TrekkSoft Bewertungen
Preis-Leistungs-Verhältnis
4,2
89%
haben diese Anwendung empfohlen
Overall A+ there is nothing as good as it out on the market at the moment and I have looked at them all. If a company wants to take their booking seriously they should use the Trekksoft backbone and customise it to suit their needs.
---
At the beginning I was delighted with the sales process and sales support. After paying the whole year in advance (They only have that option) you lose important to them as a customer as they are more focused into get more clients.
They promised to help us on the setup of the system. They assigned one person that was very nice but didn't solve anything and did very bad follow up. At the end we had to set it up alone, asking to chat support, that did better job than the others but their reply was very slow.
The support advice me to buy extra solutions that didn't worked (which I agree to buy only after the assure me that it was going to solve the issue, so they had to refund me that buy)
Finally after more than 8 days claiming to the VP of sales I din't receive any answer.
If you see they have a great rate is because they send you the rating email right after buying the software, and as you have great sales experience you will rate it really good.
---
Satisfactory! The support, the help and open to ideas I send them and also the ease way to use. Also how they helped me to change subscription to pay in parts due this pandemic.
---
Be warned about this company - they are good at marketing and promising everything about their product but they fall far from delivering on their promises and can seriously damage your business.
---
Booking software, easy management, great service, fresh websites, easy accounting
---
Vergleiche die Gesamtbewertung mit Alternativen
Mit Alternativen vergleichen
Vergleiche Nutzerempfehlungen mit Alternativen
Mit Alternativen vergleichen
TrekkSoft Preis
TrekkSoft Preis
Preis-Leistungs-Verhältnis
Vergleiche das Preis-Leistungs-Verhältnis mit Alternativen
Mit Alternativen vergleichen
TrekkSoft Funktionen
TrekkSoft Funktionen
Anpassbare Berichterstellung
Automatische Benachrichtigungen
Benutzerdefinierte Felder
Berichterstattung und Statistik
Kundenspezifisches Branding
Vergleiche Funktionen mit Alternativen
Mit Alternativen vergleichen
Kategorien
TrekkSoft Häufig gestellte Fragen
TrekkSoft Häufig gestellte Fragen
Weiter unter folgen häufig gestellte Fragen über TrekkSoft.
F. Welche Preispläne bietet TrekkSoft an?
TrekkSoft bietet folgende Kostenpläne an:
Preismodell: Einmalige Lizenz, Kostenlos, Abonnement
Gratis Testen: Verfügbar
F. Was sind die Hauptfunktionen von TrekkSoft?
Wir haben keine Informationen über die Funktionen von TrekkSoft
F. Wer sind die typischen Nutzer von TrekkSoft?
TrekkSoft hat die folgenden typischen Kunden:
Kleine Unternehmen, Großunternehmen, Öffentliche Verwaltung, Non-Profit, Freie Mitarbeiter, Mittlere Unternehmen
F: Welche Sprachen werden von TrekkSoft unterstützt?
TrekkSoft unterstützt die folgenden Sprachen:
Deutsch, Englisch, Französisch, Italienisch, Niederländisch, Portugiesisch, Spanisch
F. Welche Preispläne bietet TrekkSoft an?
TrekkSoft hat folgende Preismodelle:
Einmalige Lizenz, Kostenlos, Abonnement
F. Unterstützt TrekkSoft mobile Geräte?
TrekkSoft unterstützt die folgenden Geräte:
Android, iPhone
F. Mit welchen anderen Applikationen integriert TrekkSoft?
TrekkSoft kann in folgende Anwendungen integriert werden:
Braintree, Facebook, Google Analytics, Joomla, Optimizely, PayPal, Smartwaiver, Stripe, Wordpress, Zendesk
F. Welche Varianten der Kundenbetreuung bietet TrekkSoft an?
TrekkSoft bietet folgende Optionen für Kundensupport:
Wissensdatenbank, Online-Support, Telefon-Support, Häufig gestellte Fragen, Video-Anleitungen