Looker Übersicht
Was ist Looker?
Lookers intuitive Herangehensweise an die Datenanalyse macht die Verbreitung einer neugierorientierten Kultur sowohl effizient als auch effektiv. Eine intuitive, webbasierte Benutzeroberfläche ermöglicht es Geschäftsanwendern, das Genie ihres Datenanalyseteams zu nutzen. Sie können Berichte spontan erstellen und austauschen, sodass andere funktionale Gruppen von den Fragen, die sie stellen und von dem von ihnen erstellten Wissen, profitieren können. Und da die gesamte Looker-Erfahrung so befriedigende Ergebnisse liefert, beginnen sie, sich die Daten anzusehen, um ihre geschäftlichen Entscheidungen und Aktivitäten voranzutreiben.
Im Mittelpunkt von Looker Data Discovery steht eine neue Möglichkeit, diese webbasierten Erfahrungen zu erstellen. Mit einer flexiblen, einfach zu erlernenden Sprache namens LookML können Ihre Datenanalysten Minianwendungen erstellen, die der Datenanalyse mehr Leistung und Effizienz verleihen. Die LookML-Syntax vereinfacht die Entwicklung robuster Modelle für jede Organisation und verbessert gleichzeitig die Möglichkeiten von SQL. Es ist nicht erforderlich, Zeit und Ressourcen für die Ad-hoc-Abfrage von Abfragen oder die Einrichtung komplexer Business Intelligence (BI)-Softwareplattformen zu verwenden. Dieser sprachbasierte Ansatz führt zu einer schnelleren Abfrageausführung und optimiert dabei die Leistung.
Looker Übersicht
Kosten
Preisoptionen
Preis-Leistungs-Verhältnis
---
Looker Funktionen
Märkte
Vereinigte Staaten von Amerika, Kanada, Vereinigtes Königreich, Australien
Unterstützte Sprachen
Englisch
Medien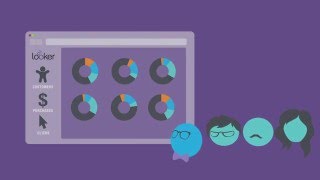 Looker Bewertungen
Looker Bewertungen
Preis-Leistungs-Verhältnis
4,3
95%
haben diese Anwendung empfohlen
I could not be happier with Looker. My one hesitation in recommending it is that other tools seemed to be able to provide 80% of the value at 20% of the cost, but I've only demoed those tools and not actually used them so I'm not sure if they could actually deliver.
---
Like I said, it's a great tool for analysts that don't need a lot of flexibility or maybe just aren't used to working with a lot of data. To get the full value out of this software, you'll need a core group of experienced Data Analysts that can learn fast (to learn Lookers Table Calculation code which is similar to SQL) who can build a bunch of dashboards and views. You really don't want people who aren't savvy with data doing a lot of the creating because measures are always aggregated based on the dimensions you pull into each table...if a user forgets to add a specific dimension then measures could show the wrong value. This could be offset by having really good developers who architect the data in a way that doesn't allow this to happen.
---
We get to force-multiply our impact by making it easy for users in all departments to make data-driven decisions and help allow that to drive their day-to-day.
---
Looker is quickly becoming our go-to for reporting and dashboarding for anything requiring more than one data source (and some that are based on just one). Paired with a kick-ass centralized data warehouse (we use Snowflake), Looker lets us roll things out very quickly (provided our data infrastructure is in good shape). It did take a while to get going with Looker because it lays on top of the existing data infrastructure. Now that we have quite a bit of strong infrastructure in place in our centralized data warehouse, we are able to produce data products in Looker quite quickly.
---
Vergleiche die Gesamtbewertung mit Alternativen
Mit Alternativen vergleichen
Vergleiche Nutzerempfehlungen mit Alternativen
Mit Alternativen vergleichen
Looker Preis
Vergleiche das Preis-Leistungs-Verhältnis mit Alternativen
Mit Alternativen vergleichen
Looker Funktionen
Looker Funktionen
Anpassbare Berichterstellung
Berichterstattung und Statistik
Werkzeuge zur Zusammenarbeit
Vergleiche Funktionen mit Alternativen
Mit Alternativen vergleichen
Kategorien
Looker Häufig gestellte Fragen
Looker Häufig gestellte Fragen
Weiter unter folgen häufig gestellte Fragen über Looker.
F. Welche Preispläne bietet Looker an?
Looker bietet folgende Kostenpläne an:
Preismodell: Abonnement
Gratis Testen: Nicht verfügbar
F. Was sind die Hauptfunktionen von Looker?
Wir haben keine Informationen über die Funktionen von Looker
F. Wer sind die typischen Nutzer von Looker?
Looker hat die folgenden typischen Kunden:
Kleine Unternehmen, Großunternehmen, Non-Profit, Mittlere Unternehmen
F: Welche Sprachen werden von Looker unterstützt?
Looker unterstützt die folgenden Sprachen:
Englisch
F. Welche Preispläne bietet Looker an?
Looker hat folgende Preismodelle:
Abonnement
F. Unterstützt Looker mobile Geräte?
Wir haben keine Informationen darüber, welche Geräte Looker unterstützt
F. Mit welchen anderen Applikationen integriert Looker?
Looker kann in folgende Anwendungen integriert werden:
Alooma, Dropbox Business, Improvado, Kustomer, LoginRadius, Panoply, Rippling, Workable, Workpuls, Xplenty
F. Welche Varianten der Kundenbetreuung bietet Looker an?
Looker bietet folgende Optionen für Kundensupport:
Wissensdatenbank, Online-Support, Häufig gestellte Fragen, Forum, Video-Anleitungen