Field Harmony Übersicht
Was ist Field Harmony?
Field Harmony wurde vom Besitzer eines Reparaturunternehmens für Haushaltsgeräte entwickelt, also kennt sich das Unternehmen bestens mit dem Außendienstmanagement aus. Field Harmony wurde von Grund auf dazu entwickelt, sich genau auf die geschäftlichen Probleme und Herausforderungen zu konzentrieren, denen sich die Servicebetreiber tatsächlich gegenübersehen.
Field Harmony Übersicht
---
Field Harmony Funktionen
Märkte
Vereinigte Staaten von Amerika, Kanada
Unterstützte Sprachen
Englisch
Medien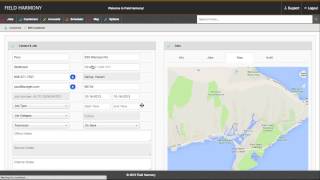 Field Harmony Bewertungen
Field Harmony Bewertungen
Preis-Leistungs-Verhältnis
0
100%
haben diese Anwendung empfohlen
I was kinda hesitant to put our whole operation under an online app. It's just like trusting another person you don't know to manage your money. We are currently still in the trial phase as far as I'm concerned still. Paul has always been able to answer any questions I have., so I would give there customer support a gold star and in this case I guess it's 5 gold stars. The inventory tracking and reorder setup seems to be working as described.
It has saved our technicians a lot of time since they don't have to worry about not having the right parts on board. They also don't have to do a 3 hour truck inventory every month which in costs us a lot in productivity. Our warehouse staff has also noticed similar results. i understand there are definitely more features, but we are implementing very slowly at this point.
---
Look no further. This is it. If you need a cloud-based software package for your field techs and office to use, you've found what I would consider the best of the bunch. Easy to learn, easy to use, accessible for anywhere with an internet connection and the best feature that you don't have to use all that often, great support on the back end.
Field Harmony does customer management, inventory management, job management and reordering of inventory if you so desire. It's about as comprehensive a package as I've found and does everything I can think of wanting it to do other than the job for me! My company would still be using paper logs without this and in this day and age that's just now way to run a business. Look at Field Harmony and you'll be glad you did.
---
Five years ago we couldn't get two computers sitting next to each other in our office to communicate with each other. Field Harmony syncs our info on all our computers, tablets, and phones all across the city! Very straight forward software that allows our technicians to generate invoices and email them to the customer right from their phone or tablet. Bye-bye sloppy technician hand-written carbon copies with coffee stains. Hello cloud! Quick response on any questions I had, too. The program gets better and better with the updates all the time. Can't wait to see what they add next.
---
Just have to give some much deserved praise to this company. I was under a free trial but my life was very busy and I was unable to really get a feel for what the program would do. Paul reached out and offered to do a walk through online with me when things calmed down and even gave me another month trial so I could really assess the program properly. His view point of "treating others like he would like to be treated" is a HUGE selling point with me and he backs up the words with actions that proves that he is trying to help the appliance repair companies that use his program. I am working with the program now and really enjoying it!
---
Pros: It. Just. Works.
Field Harmony does mapping, service scheduling, inventory management, customer management, parts ordering(if you want it to). It does pretty much everything you could need for your field techs to be successful. It works for small business or large and does what you need it to do.
Customer service is outstanding. They're on the ball addressing problems when they arise and are easy to get a hold of through email or phone and are always friendly and eager to help. You couldn't ask for better service.
Cons:
Honestly can't think of any real flaws or cons in the system. Guess it would be better if it was free but that's not really much of a complaint.
---
Vergleiche die Gesamtbewertung mit Alternativen
Mit Alternativen vergleichen
Vergleiche Nutzerempfehlungen mit Alternativen
Mit Alternativen vergleichen
Field Harmony Preis
Vergleiche das Preis-Leistungs-Verhältnis mit Alternativen
Mit Alternativen vergleichen
Field Harmony Funktionen
Field Harmony Funktionen
Abrechnung & Rechnungsstellung
Anpassbare Berichterstellung
Automatische Benachrichtigungen
Berichterstattung und Statistik
Echtzeit-Berichterstattung
Vergleiche Funktionen mit Alternativen
Mit Alternativen vergleichen
Kategorien
Field Harmony Häufig gestellte Fragen
Field Harmony Häufig gestellte Fragen
Weiter unter folgen häufig gestellte Fragen über Field Harmony.
F. Welche Preispläne bietet Field Harmony an?
Field Harmony bietet folgende Kostenpläne an:
Beginnt ab: 15,00 $/Monat
Preismodell: Abonnement
Gratis Testen: Verfügbar
F. Was sind die Hauptfunktionen von Field Harmony?
Wir haben keine Informationen über die Funktionen von Field Harmony
F. Wer sind die typischen Nutzer von Field Harmony?
Field Harmony hat die folgenden typischen Kunden:
Kleine Unternehmen, Freie Mitarbeiter, Mittlere Unternehmen
F: Welche Sprachen werden von Field Harmony unterstützt?
Field Harmony unterstützt die folgenden Sprachen:
Englisch
F. Welche Preispläne bietet Field Harmony an?
Field Harmony hat folgende Preismodelle:
Abonnement
F. Unterstützt Field Harmony mobile Geräte?
Wir haben keine Informationen darüber, welche Geräte Field Harmony unterstützt
F. Mit welchen anderen Applikationen integriert Field Harmony?
Field Harmony kann in folgende Anwendungen integriert werden:
QuickBooks Online Advanced
F. Welche Varianten der Kundenbetreuung bietet Field Harmony an?
Field Harmony bietet folgende Optionen für Kundensupport:
Häufig gestellte Fragen, Wissensdatenbank, Online-Support, Video-Anleitungen